Nail Art in Udaipur
When it comes to nail extension and Nail Art in Udaipur, Palms Thai Spa stands as the ultimate destination for those seeking to enhance the beauty of their hands with exquisite nail craftsmanship. Our Nail Art Studio is the place where creativity, precision, and style come together to give you the nails you've always dreamed of.
We offer services related to nail care and design. Our studios typically provide a range of nail treatments, such as manicures, pedicures, and acrylic or gel nail enhancements, in addition to various nail art designs. We have skilled nail technicians who have expertise in creating intricate designs and patterns on nails using a variety of tools and techniques.
Elevate your nail game with Palms Thai Spa. Our Nail Art Studio is the epitome of creativity, precision, and style, dedicated to crafting nails that make a statement. Whether you're looking for a classic nail extension in Udaipur or a breathtaking nail art design, we've got you covered.
Book an appointment with us today and experience the transformation that a visit to the top nail art studio in Udaipur can bring. Contact us to get your nails looking fabulous and expressing your unique style. At Palms Thai Spa, your nails are our canvas, and your satisfaction is our masterpiece!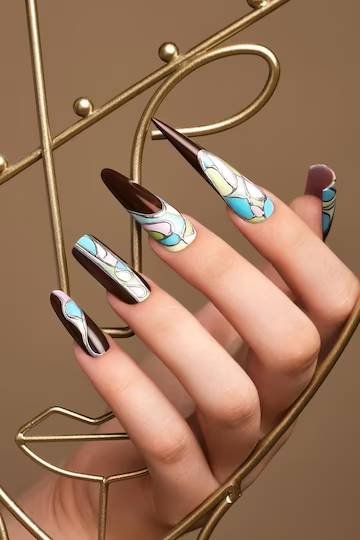 ---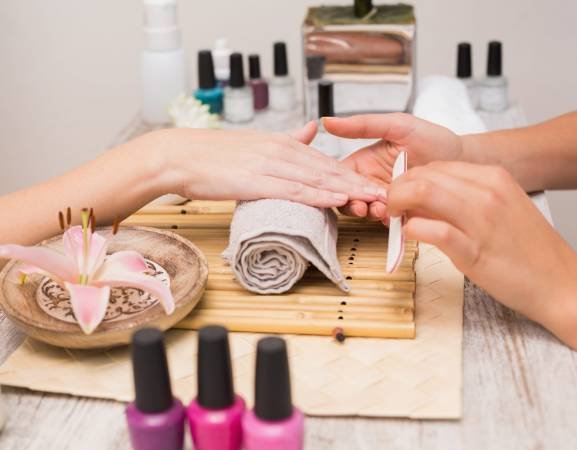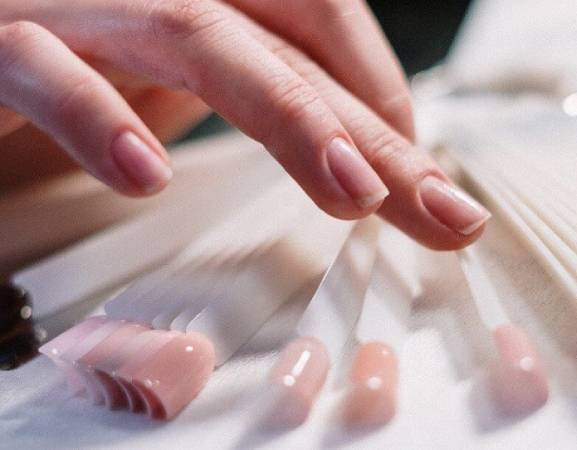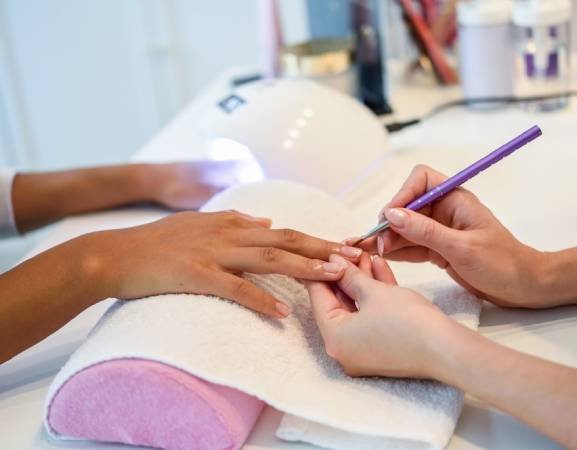 Why Palms Thai Spa is Your Top Choice for Nail Extension and Nail Art in Udaipur:
Expert Nail Technicians: At Palms Thai Spa, we take pride in our team of skilled nail technicians who are masters in the art of nail extension and nail art. Their expertise ensures that your nails receive the care and attention they deserve.
Nail Extension Variety: Looking to add length and glamour to your nails? We offer a range of options, from acrylic to gel extensions, catering to your individual preferences. Our technicians will help you choose the perfect extension method for your desired look.
Creative Nail Artistry: We specialize in creating unique and stunning nail designs that suit any occasion, from elegant and classic styles to bold and imaginative designs. Our artists can turn your nail into a canvas for self-expression.
High-Quality Products: We believe that quality should never be compromised. Therefore, we use top-quality nail products that are safe, durable, and enhance the health of your nails.
Sanitary Environment: Your well-being is our top priority. We maintain the highest standards of cleanliness and hygiene to ensure a safe and healthy environment for you while receiving nail services.
Affordable Luxury: We offer premium nail extension and nail art services at competitive prices, making luxury accessible to everyone who seeks beautiful and well-maintained nails.
Client Satisfaction: Our commitment is to leave every client delighted with their nail experience. We take pride in our consistent delivery of exceptional services that exceed your expectations.